Coming in early the week of Redemption 13 at Amarillo Dragway and want to find things to do?
Here are some Ideas:
Cadillac Ranch
Address: 13651 I-40 Frontage Rd, Amarillo, TX 79124
Cadillac Ranch is a public art installation and sculpture in A
marillo, Texas, USA. It was created in 1974 by Chip Lord, Hudson Marquez and Doug Michels, who were a part of the art group Ant Farm. It consists of what were (when originally installed during 1974) either older running used or junk Cadillac automobiles, representing a number of evolutions of the car line (most notably the birth and death of the defining feature of mid twentieth century Cadillacs: the tailfins) from 1949 to 1963, half-buried nose-first in the ground, at an angle purportedly corresponding to that of the Great Pyramid of Giza in Egypt.
Big things to eat
?
The Big Texan is waiting for you to conquer their Texas Size Steak
Address: 7701 Interstate 40 Access Rd Amarillo, TX 79118
Phone (806) 372-6000
Soon after the original Route 66 Big Texan open it's doors in 1960, owner Bob (RJ) Lee was amazed at how many REAL Texas Cowboys, were coming in for his HUGE TEXAS SIZE STEAKS, that his menu offered. He also saw how much fun his out of town patrons & visitors were having watching these true Texans trying to "out do" each others carnivorous appetites. Most of his Big Cowboys dinners came from a near-by stockyard operation, & would stop in after a long days work. Friday's was payday at the stockyard & he would cash their paychecks & offer 25 cent beer. 
One Friday, he put several tables together in the center of the dinning room & sat all the cowboys together & told them he wanted to see who could eat the most one pound steaks in an hour. The cost was $5 per eater & whoever ate the most got to keep the entire entry-fee.
The rules were simple; you could not get up during the contest or have anyone help you eat, you did not have to eat the fat & if you got sick, you were out.
The cowboys put in their money,took a seat & the contest was on, steaks were flying.
One of the eaters took the lead by swallowing two steaks in ten minutes.
Next,he politely requested a salad & a shrimp cocktail be served with his third steak. He consumed the extras, then this soft spoken giant called for his fourth steak & ask for a baked potato & a bread roll. He wasted little time on devouring those items & called for his fifth steak.
As the hour contest came to an end, this gastronomic superman had eaten:
4 & 1/2 pounds of steak, (which is 72 oz's) baked potato,shrimp cocktail,salad & a bread roll.
In his amazement & delight of the crowd, Owner Bob (RJ) Lee stood up on a chair in the middle of the dinning room to proclaimed that: "from this day forward, anyone who could eat the entire 72 oz dinner-in one hour– gets it for FREE.
On that date in 1962 the legendary 72oz Steak Challenge was born & to this date the contests stands strong.
PALO DURO CANYON STATE PARK
ADDRESS: 11450 Park Road 5 Canyon, TX 79015
PHONE: (806) 488-2227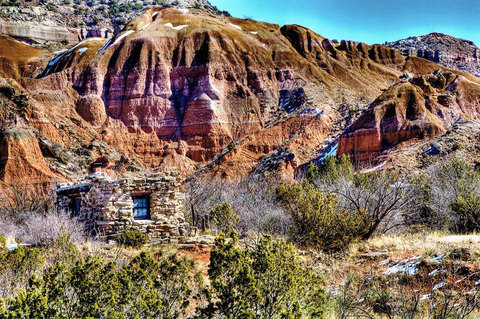 The 2nd largest canyon in America and one of America's most magnificent scenic attractions, located just 25 miles southeast of Amarillo. Enjoy extraordinary vistas of color and beauty from the comfort of your automobile. Travel the same trails used by Native Americans, early Spanish explorers, buffalo hunters and pioneers. The park has more than 25,000 acres of room to roam and offers camping, cabins, riding stables, picnicking, and miles or hiking, mountain bike and horse trails.